DPx Gear's inner 1980s hair band groupie was thrilled to be contacted by Mötley Crüe's production team to acquire some DPx knives for bassist and knife fan, Nikki Sixx. He made some great purchases and has been showing off his DPx HEST Original Fire 550 Paracord-wrapped blade via his Instagram account, @nikkisixxpixx. The Crüe is currently on their final worldwide tour. No word yet as to whether or not the DPx crew will get any backstage passes when they roll through San Diego this December.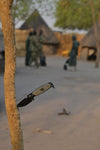 It has been nearly six years since DPx Gear®'s very first knife design, the DPx H•E•S•T™ Original, hit the streets. The iconic design that launched DPx is coming soon in new configurations which are estimated to ship October 31st, 2014. The additions to the lineup are as follows:
The serrated version is a combo edge with a short strip of serrations at the base of the blade. The serration pattern will be flat so that they may be sharpened easily in the field. The desert tan and OD green versions will allow for DPx customers to choose a different visual signature than the standard black coating. The knives will all come standard with a KYDEX sheath and optional belt clip attachment and the same quality and lifetime warranty DPx Gear's customers have come to expect.
DPx is excited for its line to expand and looks forward to its customer's feedback once these new models hit the streets.